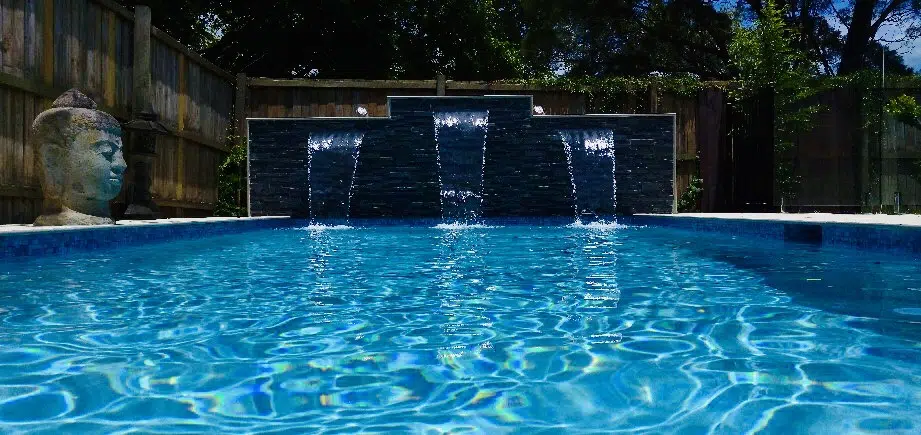 At Oasis Pool Constructions on the Gold Coast, we start from ground zero when designing and building your new inground swimming pool.
We don't restrict you with preset pool designs, we will custom design and custom build your swimming pool to best fit the space available on your block.
We'd love to get your inground pool ready for the blazing Gold Coast summer – as usual, it's going to be a hot one!
For further information or an obligation free quote, call now on 07 5649 9810 or send us a message.
Custom Concrete Inground Pools
Our bespoke swimming pools are custom made from concrete which gives us the flexibility to build a swimming pool that will perfectly fit into your backyard.
If your backyard is an unusual shape, on a slope or you have limited space available, we can work with your block to maximise the total area of your pool and create a beautiful feature of your backyard.
Total Customisation
We follow a specific pool building process to ensure that our custom inground pools are individually tailored to:
Meet your families needs.
Fit your backyard or block.
Suit your budget.
Align with your lifestyle and way of life.
Check out some of our latest inground pools by viewing our swimming pool portfolio – all photos taken on the Gold Coast in QLD.
Why Choose A Concrete Pool?
Appearance
An inground swimming pool makes for an attractive feature alongside any home. When building your concrete pool, you have the choice of finishes and you can optionally add tiling or additional water features that make your pool stand out.
Concrete pools can also be designed to integrate into the landscape which makes your pool a beautiful work of art.
Add Value To Your Property
An inground concrete pool will add value to your property, particularly if the pool has been well landscaped and is integrated into the overall design of your property.
No Limitations
When we design and build an inground pool, we work with concrete exclusively so that you are not limited to a particular size or shape from the shelf. We can customise your new pool to your desired width, height, depth and shape which will make your swimming pool truly unique.
Many other pool building companies on the Gold Coast use templated fibreglass shells for their inground pools which means that they have a limited range of shapes and sizes which may not suit your space.
Durability – It Will Last
An inground concrete pool is very durable and can have a lifespan of 50 – 70 years. You won't have to worry about sharp objects damaging the pool structure which is a weakness of other pool building materials.
See our article on concrete pools vs fibreglass pools.
Frequently Asked Questions
Contact Us Today
Enjoy the Gold Coast summer and cool off in the privacy of your own home.
If you want to learn more about getting an inground pool or would like an obligation free quote, call now on 07 5649 9810 or send us a message.